Home » About » News » Reddin Global Celebrates Launch of Team Effectiveness Solution
Reddin Global Celebrates Launch of Team Effectiveness Solution To Leader-Managers
Oakville, Ontario (March 15, 2017) – Reddin Global Inc., the Oakville Ontario based technology firm that develops digital performance maximization solutions for businesses, has recently celebrated the launch of their flagship team effectiveness solution, "e-suite.com", directly to leader-managers.
The celebration was kicked off with two major Open House events on February 15th at their offices in Oakville, and on March 8th at The National Club downtown Toronto. The well-attended events attracted more than 100 guests, including the company's current clients, investors and members of the business community in Halton and Toronto. The company's founder, Doug Emerson, with partner and Reddin Global CEO, Allison Christilaw, hosted the parties.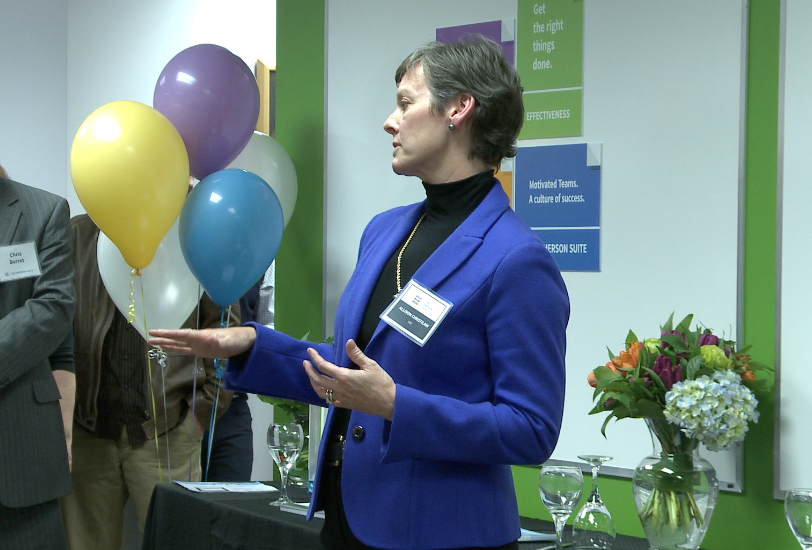 Many senior executives were in attendance including keynote speaker, Kelly Murumets, former CEO of Tennis Canada. Murumets spoke of how the goal cascade process she used over the years to define and roll out objectives had enabled seamless alignment, from senior leadership, to management and all way throughout the rest of teams, in the organizations she led.
"The methodology helped us take a top-down approach from CEO's objectives to those of our leadership, and then linking them to those of management, with the process subsequently cascading down to the whole organizational structure. It was magic," Murumets explained.
But working with key results, metrics and objectives cascade on paper through multiple leadership teams and across business units can take a toll. "I only wish I had access to e-suite.com back then when we had to work insane hours to make it all happen," Murumets recalled. "e-suite.com has it all built in an online platform that's easy to use, giving leader-managers more time for their lives, less stress, with a focus on managing the business and growing clients versus managing teams," she added.
Garnet Lasby, President of Massilly North America, a manufacturer of metal packaging for the food and beverage industry, agreed. He described how the digital and mobile platform of e-suite.com made it easier to roll the process down from his senior leadership team to their teams, and in doing so it helped accelerate Massilly's ability to accomplish their corporate objectives.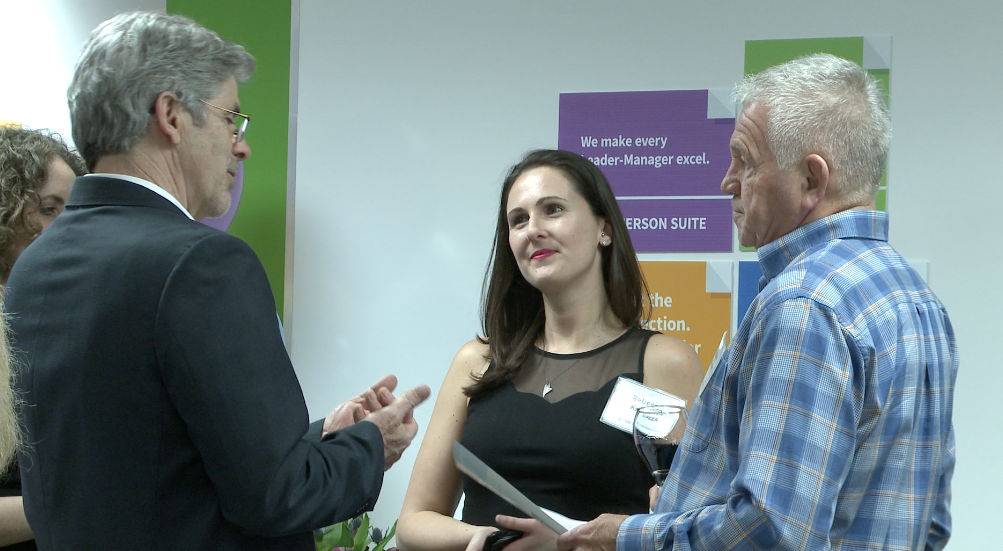 "The suite of tools offered a consistent framework to get our cross-functional teams aligned with corporate objectives through the Weekly Top Five," Lasby noted referring to a key feature of e-suite.com. "This provided real-time visibility into what everyone is doing, clarity around accountability, and increased speed of delivery with a focus on what matters. Most importantly, it helped our managers develop the right effective management disciplines they needed," Lasby added. The impact of the implementation, he later shared, were speed in production delivery process, increased quality and ultimately happier customers.
Both events were an opportunity for Reddin Global to finally engage with the community of leader-managers they knew best. "It feels great to take our story directly to leader-managers in Canada and beyond," said Allison Christilaw. "This is a community we are very familiar with. And what better way to do that than having our clients tell that story on our behalf," she concluded.
About e-suite.com
e-suite.com is a set of powerful leader-directed and employee-driven team effectiveness solutions. The cloud-based digital system was developed by Reddin Global, a Canadian technology firm in Oakville, Ontario. The methodology behind the tools helps businesses drive a culture of high-performance by instilling the right effectiveness disciplines necessary to develop the effective leader-managers of today and tomorrow. For over 40 years, the proven methodology behind e-suite.com has helped leaders in more than 200 companies, from Fortune 500 to privately owned, across five continents, and in virtually every industry.